MISSION delivers the data quickly and reliably using a variety of unique methods.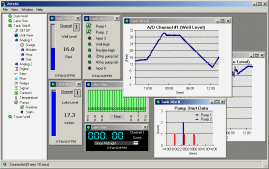 As if the alarm notifications and web site weren't enough, MISSION also provides every customer with a basic HMI package called Real Time Viewer™.



Watch pumps turn on and off in real-time.
See levels updated at least every two minutes
Control remote relays with a click
Get instant graphs of the last hour or day of analog data.
Some types of moving computer graphics are unavailable for use with web sites so MISSION went the extra mile and created its own SCADA software in the JAVA language. This allows customers to have continuously updating "Control Room" type screens. Operators will see levels changing and pumps run as it happens. Unlimited, free copies can be used in the office or home. Security can be set for "Read Only" or full administrative access.


Prepackaged "Views" and Icons means no Programming. Period!
MISSION understands that no one looks forward to designing a SCADA system (except maybe the SCADA software salesperson). So MISSION took the best SCADA screens and "pre-packaged" them into a small set of "views" which customers can select. There is no programming what so ever. Simple click on a view, drag it to where you want it on the screen and you're done. Put as many views on a screen as you like.


Feature
Benefit
Java based
Runs on most any computer
Data "pushed" out from server
Data on screen in seconds
Reduces bandwidth requirements
Save customized screens
Easily set up many different views
Create and Save Your Own SCADA Screens – Drag and Drop Simplicity
Once a customer (MISSION can help if you want) selects what they want to see and how, they save it. Customers can then open different screens they've created with 2 clicks. Customization without programming; everyone gets what they want! And as customer preferences change, so can MISSION.


See Changes Within Seconds – Watch Pumps Run
The MISSION RTU's are unlike traditional SCADA units in that they "push" data as it happens. When levels change and pumps turn on and off, MISSION transmits this data within seconds -- no more waiting for slow polling loops. With MISSION's Real Time Viewer, customers are "seeing" live events within a few seconds of when they happen. MISSION is not only extremely economical, it's incredibly fast.


Moving Graphs - Pop up Data Points
When problems occur, utilities must respond. But there are never enough "eyes" to go around. This is when MISSION really shines. Real Time Viewer constantly updates moving graphs which allow operators to watch critical sites from their office, home or vehicle. Graphs of levels, pressures, current draw or flows come alive as they move across the screen. With the computer's cursor, simply point to a spot on the graph and the time and value of the data appear on the screen. This provides accurate trending at crucial times, and without spending a fortune in overtime.


Free Program Updates Downloaded Automatically When Released
As with all MISSION computer services, updates and improvements are free. Every time Real Time Viewer runs, it automatically checks with MISSION for updates. The program will download available updates.

Customers always get the best with MISSION.