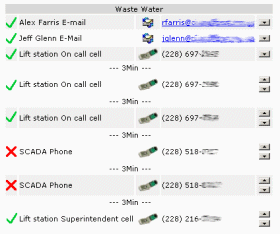 The Best Alarm Call Out System Ever
While the MISSION system performs many time-saving functions, one of the system's core features is its alarm notification system. When there is an alarm to report, the MISSION notification system tracks down people to alert them of the problem.
MISSION operates two separate notification computer centers, each with phone lines and Internet links to call phones, pagers, fax machines or send emails. For redundancy, MISSION uses separate local phone companies, operating through different switches and separate long distance companies; just like commercial alarm companies. MISSION goes the extra mile to ensure 24/7/365 service. No one else does.
MISSION's system is designed to easily accommodate virtually any "call out" scheme the customer can imagine, right on your web site! Different people can be called based upon the time of the day, day of the week, or what kind of alarm it is. The day on-call personnel can be on one notification team and the night team on another.

Entire teams of people can be changed by simply clicking the appropriate team and then "Place On Duty". The system can also be set to automatically rotate any number of different teams of on-duty personnel on a predetermined schedule. If someone is not available for the day, it is easy to uncheck the "On Duty" box. No more calling sick or on vacation personnel who can't respond and may delay response time. You can update a service persons new cell phone or pager number for any number of RTU's in just seconds.
Clear, Precise Alarm Messages
When MISSION issues alarms you'll receive the site name, street address of the site, and an exact description of the alarm. MISSION will even tell you if the pumps were running, or not, at the time of the alarm, all this in an extremely clear voice. MISSION has researched and integrating the best computer speech technology so there'll be no doubt as to what's happening.


Notify Anybody, By Any Means, on Any Schedule
MISSION has notification options to meet any need. Call multiple people at the same time, change call out list according to what type of alarm it is, time of day, day of week or virtually any condition. Test your generators on Wednesday morning? No problem, MISSION will suppress those specific alarms from 8 AM till noon, or reroute them to email during that time only. From the secure customer web site, people can be taken on/off duty with the click of a button, or have entire teams of on-call people automatically rotate on and off duty on a daily, weekly or monthly schedule.