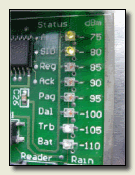 MISSION's high reliability RTU circuitry comes in a wide variety of packages to suit the installation requirements.

Exclusively from MISSION,
this patent pending device serves many purposes. The wet well module is designed to greatly speed and improve installation time when retrofitting an existing float driven duplex wastewater pump station. The small module easily fits almost any control cabinet. With just a few minutes of work the module interfaces to the existing hour meters or motor starters to pick up individual and simultaneous pump runtimes. There is no need to add auxiliary contacts or interposing relays.

The module allows the installer to easily T-tap into the existing high-level float. No extra floats or relays are required. In this way the module reliably relays high wet well alarms, even during AC power outages. The wet well module allows installers to reliably put in a basic system with AC failure, high level alarms and two pump runtimes in just an hour or two.


Applications:
Lift Stations
AC failure alarm
High level alarms without adding extra float
Two pump runtimes with simultaneous runtimes
Saves installation time.